MOOD :MOODY... :P
VENUE:MY NEW WHITE ROOM,MY HOME SWEET HOME,K.PILAH N.SEMBILAN.
now,3.55am...and i'm still here.masih lagi terjaga..tak boleh nak melelapkan mata.menguap dah beberapa kali.tapi,mata masih lagi tak terpejam...dan saya teruskan mengarut membebel disinih...
i've been here almost..hmm....2-3 weeks ek..kan..kan..bersenang lenang..hahaha bersenag lenang tapi penat..
Paint my room,do some interior thinggy..(hey adik..cepat la..adik patut buat nih).ok...u are excused..sbb tgh buat final kan..wish u all the best adik..
huhuhu do gerderning,siram bunga di petang hari,kupas kelapa..(i'm good in this..seriously):P,buat asam keping hari2 potong2 jemur..dan hasilnya membanggakan...semoga pokok tuh tak berhenti berbuah..alhamdullillah....
masa dah berlalu..january pun dah tiggal beberapa hari je lagi...
dah nak masuk febuary.Masih banyak list yang belum bertanda...huhuhu dan list tuh semakin bertambah tambah...
Apa yang merunsingkan...muka yang di penuhi jerawat..ohhhh kenapakah ini berlaku..
mugkin tak cukup tidur..mungkin juga stress mungkin juga...blablablabla...
aaaaaaaaaaaaaaaaaaaaaaaaaaaaaaaaaaaa...alamak cemana nih.
few pics to share..
my room entrance,yeah..it white!!! YAY!
abang yang tidur kat atas tuh bersama2 hingga ke pagi...dan dia juga tak kan keluar hinga ke petang.just turun untuk makan.abang ni pemalas harap maklum.Tidur je...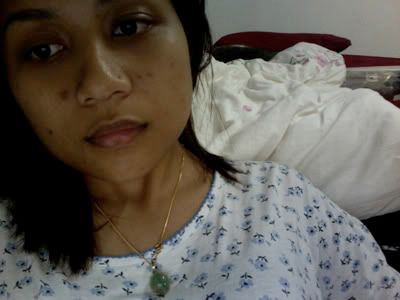 my face..full of pimples! HELP!!!!!!!!!!